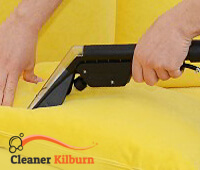 If you search for reliable and professional upholstery cleaning, you can count on our experienced company that will come up with the best offers in the area. You can book our outstanding upholstery cleaning in Kilburn at a time that will be most convenient for you. Your furniture will be treated in a careful manner and with the most modern cleaning equipment. No matter of the day or hour, we will respond to your calls and we will be happy to respond to all of your questions that concern the upholstery cleaning.
Carpet, Sofa and Upholstery Cleaning
Prices
Landing Carpet

from £

4

Bedroom Carpet

from £

23

Livingroom Carpet

from £

25

Sofa – Two Seat

from £

30

Upholstered Armchair

from £

18
Minimum call out charge £55.
Excellent and Affordable Upholstery Cleaning in Kilburn
Choose our excellent and affordable upholstery cleaning and we promise to work with attention to detail and to restore the perfect look of your upholstered furniture. We assure you that our upholstery cleaning in Kilburn will help you make your home atmosphere cosier and more welcoming than ever.
When choosing our upholstery cleaning you receive the chance to benefit from the following things:
Full removing of stains from ink, blood and wine
Polishing of the furniture if required by the customers
Using of chemically free equipment
Second to none cleaning approaches
Fairly honest prices
Excellent schedules
Very competitive prices
Friendly and comprehensive cleaners
Exclusive offers for the upholstery cleaning
Detailed Upholstery Cleaning in Kilburn
Do not hesitate to contact us and meet with our professional local cleaners who will use modern cleaning approaches to remove all the stains from the furniture.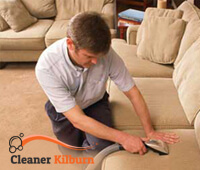 If you require, we can also polish the furniture in an excellent way and we can also provide full removing of the unpleasant odours, thanks to the special deodorizers that we possess. Instead of throwing away all the carpets, you can trust our reliable company that collaborates with experienced and disciplined staff. We are sure that the upholstery cleaning that we offer in Kilburn NW6 will meet all of your requirements because we have thought about each detail. Learn more about our affordable rates and second to none offers through the customer support centres that are kindly provided by our dedicated local cleaning company.
Our Advanced Upholstery Cleaning Methods
Steam Cleaning: Deep Clean for Fabric Upholstery Steam cleaning is the most common cleaning method. It is powerful and efficient and leaves the materials of the upholstery clean, spotless and disinfected in depth.
Leather Cleaning and Conditioning: We gently clean the leather, then condition it. That way it will remain not only clean but also smooth, soft, shiny and healthy looking.
Microfiber Specific Techniques: Because of the peculiar composition of microfiber, specific cleaning products and processes are required to ensure complete cleaning without water streaks or damage to the fabric.
Dry Cleaning for Delicate Fabrics: Dry Cleaning is perfect for gentle fabrics and materials, such as silk or vintage upholstery. This method uses no water and is harmless to fabrics.
Revitalize Your Furniture: Efficient Cleaning for Every Material
Welcome to Cleaner Kilburn, your reliable upholstery cleaning service provider in Kilburn NW6. We offer personalised cleaning methods to restore the elegance and comfort of your upholstered items. We are familiar with the variety of furniture kinds and materials. Our knowledge of various textiles and cleaning procedures ensures that each piece of furniture receives the attention it deserves.
Why Call our Local Cleaning Agency for Professional Upholstery Cleaning?
Extended Furniture Life and Appearance – Regular cleaning performed by professionals, will help improve and maintain the condition of your upholstered furniture, leaving them beautiful and extending their life.
Health Benefits: Eliminating Allergens and Bacteria – A professionally done deep cleaning of upholstery will eliminate all germs, bacteria and dust mites.
Customized Cleaning for Every Material By using a special cleaning approach for each material, we ensure high quality cleaning results every time.
Booking Our Upholstery Cleaning Service
Simple and Convenient Booking Process – To schedule an appointment with our local cleaning agency, all you need to do is contact us, provide us with some basic information about your needs and tell us about your expectations from the service.
Tailored Cleaning Plans – We offer custom cleaning services that we tailor to each customer's specific needs. You will be able to modify every aspect of the service.
Understanding Different Furniture Materials and Their Cleaning Needs
Fabric Upholstery: The Classic Choice
Fabric upholstery is one of the most cotton types of upholstered furniture. These materials include cotton, linen, and wool. To remove dirt and stains without harming the fibres, we will utilise a gentle yet efficient cleaning method.
Leather Upholstery: Timeless Elegance
Genuine or faux leather furniture requires a careful cleaning approach. Cleaning and conditioning leather is essential for preserving its appearance and preventing cracks and fading.
Microfiber Upholstery: Modern and Practical
Even though microfiber is known for its durability and stain resistance, this material still requires expert cleaning to remove ingrained dirt and keep its beauty.
Velvet Upholstery: Luxury Demands Precision
A gentle cleaning approach is required for the luxurious velvet material. We will work carefully, in order to remove dirt and stains without harming the soft, plush surface of the velvet.
FAQs About Our Upholstery Cleaning Service
How often should I schedule domestic cleaning?
We will use high quality and efficient stain removal products, however, the success of this process will depend on the type and age of the stains.
Is the cleaning process safe for children and pets?
Yes, we utilise high quality, efficient cleaning tools and products, all of which, however, contain no toxic chemicals. They are safe for humans and pets so you have nothing to worry about.
How often should upholstery be professionally cleaned?
Depending on your lifestyle, the presence of pets and children, professionally cleaning your upholstery every 12-18 months is sufficient.
Through the specialised cleaning services, we offer in our local cleaning agency – Cleaner Kilburn, we are able to breathe new life into your upholstered furniture. Trust us to keep your upholstery looking beautiful, comfortable, and clean, improving the overall ambiance of your house. Contact us immediately to have our experienced upholstery cleaning services revitalise your furniture in Kilburn NW6.