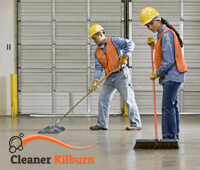 You can use the after builders cleaning which we provide to the residents of Kilburn NW6 after doing any changes in the structure of your property. Our services are also suitable to be ordered after decorating, building, renovation and home improvement work. We can send as many workers as you need to come and do the cleaning tasks. They will come equipped with the most advanced machines, tools and detergents which are necessary for work. We offer our services every weekday and weekend at affordable prices.
After Builders Cleaning
Prices
After Builders Cleaning

£

20/h
Reliable Builders Cleaning Services in Kilburn
The builders cleaning services which we offer are suitable to be used after:
Loft and basement conversion
Extension of your domestic and business property
Painting and decorating your rooms
Building additional outdoor constructions
Merging and separating rooms and areas
Renovation of your property
Thorough Builders Cleaning Services in Kilburn
The builders cleaning which we provide will make your rooms perfectly sanitized and cleaned of the construction wastes and dust. Our cleaning workers will gather the building remains and remove them from your property..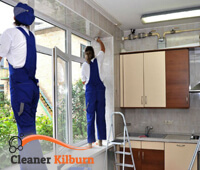 They will mop and wipe the floors, vacuum clean the rooms, scrub and dust the furniture, electric appliances and hard surfaces. The local cleaners on our team will polish and de-scale the sanitary ware, clean and wipe the walls, ceilings, windows and doors. They will remove the paint splatters from every surface found, hoover the carpets and upholstery whenever it is necessary. We can guarantee you thoroughly cleaned and hygienic rooms after our workers sanitize them. The builders cleaning which we provide in Kilburn NW6 can be ordered by phone, e-mail and online.
Why Select Our After Builders Cleaning Service in Kilburn NW6?
Experience in Post-Construction Cleaning: We work with professional local cleaners that have knowledge and expertise. They will approach every issue in the best way possible.
Tailored Services to Fit Your Project: We work with all kinds of properties, – no matter the size and type. We will tailor the entire service to your needs.
Commitment to Health and Safety: We utilise non-toxic, bio-degradable and safe cleaning solutions and techniques. You and your loved ones will be safe and happy.
We offer professional and affordable builders cleaning which will make your rooms hygienic and ready to be used again. Our cleaners are very punctual, arrive and finish work on time and use the latest cleaning machines. They can pressure wash your outdoor paved and tiled areas using advanced jet washing machines. You can make your rooms and new constructions flawlessly clean and spotless right after building work, using our services. The builders cleaning that we deliver to the residents of Kilburn is trustworthy, low-cost and done in a professional manner.
Elevating Post-Construction Cleanliness: Expert After Builders Cleaning in Kilburn NW6
Our professional after builders cleaning service in Kilburn NW6 distinguishes us as the best local cleaning agency. We specialise in post-construction and renovation clean-ups, so your freshly changed room is not only visually beautiful but also thoroughly sanitised and comfortable. Our expert cleaning crew is well-versed in dealing with the particular issues that construction sites bring, providing expert cleaning services that are tailored to the individual demands of each project.
Our Comprehensive After Builders Cleaning Process
Initial Site Inspection
Every building or remodelling project has particular characteristics, as well as cleaning requirements. We begin with a thorough inspection of your property, which allows us to tailor our approach to cleaning, ensuring that every nook and crevice is addressed efficiently and properly.
Deep Cleaning and Debris Removal
Our attention extends beyond simple surface cleaning. We remove construction rubbish, dust, and residual materials with care, leaving the area immaculate. Our post-construction cleaning service includes everything from deep cleaning floors and walls to polishing windows and fixtures, as well as deep disinfection.
Advanced Cleaning Techniques for the Best Results
We remove stubborn stains, paint splatters, and cement traces using professional and efficient cleaning technology and environmentally safe chemicals. Our innovative cleaning technologies offer efficient and safe cleaning while keeping the integrity of your freshly built or refurbished areas.
Booking Your After Builders Cleaning with Us
Simple Scheduling Process It is quick and easy to book our after builders cleaning service. Send us an email with your project specifications, and we'll send a detailed plan and a transparent price quote. Choose a time that works for you and leave the rest to our professional local cleaners.
Custom Cleaning Plans Our cleaning services are customisable and will be tailored to your particular needs and requirements. You will be provided with everything you need.
FAQs About the After Builders Cleaning Service Kilburn NW6
How soon can you start cleaning after construction is complete?
As soon as the building work is over, our staff may begin cleaning. We recommend booking our services ahead of time to assure availability at your preferred time.
Are your cleaning methods safe for newly installed fixtures and surfaces?
Yes, during the initial inspection, we carefully test the various materials and surfaces in your home, selecting the most suitable cleaning method for them. The high-quality solutions we use will efficiently remove dirt and grime without causing harm to the surface.
Can you handle cleaning for both residential and commercial post-construction sites?
The professionals that will be performing the after builders cleaning for you are experienced and knowledgeable. They specialise in this type of cleaning and are able to handle both residential and commercial properties. You will receive the best final results.
The after builders cleaning service in Kilburn NW6 offered by our local cleaning company – Cleaner Kilburn, is intended to make the transition from a building site to a polished and inviting environment as easy and quick as possible. Trust us to manage the post-construction clean-up, ensuring that your area is ready to use. Call us immediately to arrange your cleaning and enjoy the best cleaning service available in the industry.