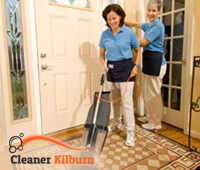 The next time you are wondering which company to take your carpet to, choose to use ours. We are not only skilled and experienced cleaners, but also very flexible and convenient. We do all carpet cleaning sessions on site, which basically means you don't have to bother to remove your carpet. We cover Kilburn and provide services 7 days a week. It's very easy to schedule a service with us. You just have to talk with our telephone operators. They can consult you on everything regarding our service. It is worth giving us a try. If you have made up your mind to have your carpet professionally cleaned, just dial our number and we will get the job done for you. You have our word. Make an appointment now.
I was impressed by the final outcomes delivered by these guys. They finished the job a lot quicker than expected and my entire house smelled amazing once they were done. I am excited to be working with them again. – Halle Romero
Why Professional Carpet Cleaning Is Important?
If your carpets are dirty and stained, your entire home will look dull and unkempt. To ensure that your home is healthy and beautiful, you should consider hiring a professional company to take care of this task. It is important that professionals perform this chore since any DIY cleaning attempts may cause damage to the fabric. The professional cleaner will use high quality tools and products that will result in complete stain and grime removal, as well as disinfection of the entire surface.
If you decide to book a regular carpet cleaning service, you will be able to benefit in more than one way. The air quality at your home will significantly improve and so will the overall appearance of the carpet and the entire room. What is more, all germs and bacteria will be eliminated from the fibres of the carpet, reducing the health issues, allergies and irritations caused by dust, bacteria and other allergens. Deep clean your carpets on a regular basis to extend their lifespan.
Carpet, Sofa and Upholstery Cleaning
Prices
Landing Carpet

from £

4

Bedroom Carpet

from £

23

Livingroom Carpet

from £

25

Sofa – Two Seat

from £

30

Upholstered Armchair

from £

18
Minimum call out charge £55.
Effective Deep Carpet Cleaning Methods
See our most popular deep cleaning services listed below.
Hot Water Extraction
This is the most affordable cleaning method which is often confused with the steam cleaning one. However, the two are very different – the hot water extraction involves the use of powerful cleaning solutions and hot water. This is a very efficient cleaning approach which is one of the most requested ones. The cleaners will extract most of the moisture at the end of the cleaning to speed up the drying process.
Dry Carpet Cleaning
Another powerful cleaning method which is often used for delicate fabrics or materials that should now be in contact with water. It is gentle and simple and is only completed with a dry cleaning solution and a professional vacuum cleaner. The process takes a bit longer because the dry cleaning solution needs time to dissolve all the dirt and help us achieve immaculate results.
Scotchgard stain protection
If you request protection for your carpets/upholstery, our cleaning professionals will use Scotchgard. This is an effective way to prevent stains, dirt and tear and wear marks. A thin layer of the product will achieve all of that and keep your carpet/upholstery looking good for longer. This protective layer is perfect for fragile and delicate fabrics such as silk, velvet and wool. It will significantly prevent the stains from getting deep in the fabric.
My carpets look new. No stains or hair or strange odours can be found on them and I am more than grateful for the efforts put in by the cleaning team of this company. – Nicole Keller
Step-by-step Carpet Cleaning in Kilburn
We offer a very effective step-by-step cleaning program, which usually yields great results. Throughout the job we use a number of methods and cleaning supplies. Our Kilburn customers can rest assured their carpets are in skilled hands.
More about the process:
Check up and pre-treatment
Stain removal
Vacuuming
Sanitation
Steam cleaning
Deodorising and drying
Eco-Friendly Carpet Cleaning and Safe for Pets and Children:
We care about the well-being of our customers and only utilise eco-friendly, non-toxic cleaning products and methods. We guarantee that there will be no health hazards and you will be able to live in a happy and healthy home. What is more, our solutions are biodegradable, eco-friendly and safe for the environment. We focus on your health and the environment as much as we do on the high quality of our cleaning solutions.
My sofa has never been cleaned and I thought it is time to simply replace it. Then I found this company and booked their carpet cleaning service. I am extremely pleased with their work and am looking forward to working with them again. – Margie Simmons
Completed Carpet Cleaning in Kilburn
Our cleaning process is complex. It consists of a few stages, which usually differ depending on the type of carpet as well as the amount of dirt to be cleaned.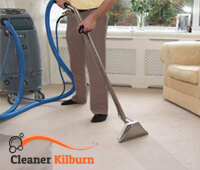 We use a few successful cleaning techniques, which help to clean carpets more effectively. Just so you know, we use small amounts of water during cleaning, which make it easy for carpets to dry. The good thing is, your item will dry within a few hours following the cleaning. It means you don't have to wait for days in order to use your carpet again. This is a huge advantage and it's worth considering using our company. If you have been looking for a reliable contractor and you really could use help cleaning your carpet, our carpet cleaning service in Kilburn is just for you. Give is a try. Make sure to call us whenever convenient for you. We will be glad to help.
Frequently Asked Questions
How do I know if I need dry cleaning or hot water extraction?
If you are not sure what is best for you, rely on our customer service agents. They will ask you a few questions and based on the information you provide them with, will select a cleaning service. To ensure the best results, our cleaning professionals will inspect the materials further and select the best cleaning method and solutions for the fabric at hand.
Are my carpets going to be wet at the end of the service?
With the hot water extraction method, your carpets may be moist at the end. We will extract most of the moisture and help them dry quicker.
How much will my carpet cleaning service cost?
That depends on the size of the carper, its materials and the additional service ( hair removal, protection, etc.) you choose to include.
If i'm allergic to one of the chemicals in your products, can you not use it at my property?
Yes, all you need to do is let us know about your allergy prior to the service. We will find a suitable replacement for that cleaning product.
Will you move my furniture?
Yes, smaller furniture will be moved so that we are able to thoroughly clean the entire surface of your carpet. We will place them back to their original places.
Can I walk on my carpets when the service is completed?
We do not suggest that. Walking on the freshly cleaned carpet may mess up the fibres and cause them to sit flat.